(Schedule might be changed and events might be cancelled at any time in order to response to the unpredictable situation of COVID-19.)
Wednesday 22/6/2022
Walking Tour in the Old Town
During the tour you will visit all the important monuments of the town and memorials as well as a traditional pastry workshop where you will see people making home-made phyllo dough and pastries.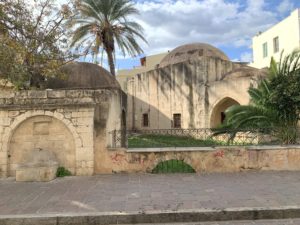 Welcome Reception
On Wednesday evening, we are also delighted to offer our ICOT2022 delegates a Welcome Reception at the Venetian Fortezza Castle. The Reception is a perfect moment to give a very warm welcome to the conference delegates from the various countries. It is also a wonderful opportunity to meet people or make new contacts by just saying hello to a follow delegate, while enjoying snacks & local drinks.
Friday 24/6/2022
Wine Tasting & Gala Dinner
Saturday 25/6/2022

Full-Day Trip (9.30am – 5pm)
10.00 Visit to Eleutherna an ancient city-state in Crete, Greece, which lies 25 km southeast of Rethymno and flourished from the Dark Ages of Greece's early history until Byzantine times.
12.00 Visit to Arkadi Monastery an Eastern Orthodox monastery, situated on a fertile plateau 23 km (14 mi) to the southeast of Rethymnon on t
he island of Crete in Greece.
13.00 Free time for lunch, coffee and swimming at Parnomos Village
Panormos is a small traditional Cretan fishing village with narrow cobbled streets, shops and an excellent choice of tavernas. It lies above the harbour and overlooks three beautiful little coves with lovely sandy beaches for sunbathing and calm waters for swimming.
Optional visit of the nearby Klados winery (The optional visit comes at a cost of 5€/ person and includes wine tasting of 3 varieties and a guided tour at the winery, the vineyard and the cellar).
16.00 Return to Heraklion